10 Delicious Foods That Will Help You Lose Weight
We're not about a month into the new year, and those New Year's resolutions seem to be harder and harder to achieve. Many people have continued the big trend of swearing that they are going to be trying their best to lose tons of weight this year, but with so many delicious foods being so […]
We're not about a month into the new year, and those New Year's resolutions seem to be harder and harder to achieve. Many people have continued the big trend of swearing that they are going to be trying their best to lose tons of weight this year, but with so many delicious foods being so bad for you, it's an incredibly hard task for anyone to accomplish. What a lot of people don't know though is that there are a bunch of different foods that are not only delicious and healthy, but will also really help boost your energy and help you lose the extra weight that you've been desperately trying to shed off. Here's a list of delicious foods that anyone trying to lose some weight should consider adding to their everyday diet.
Salmon: This is one of the healthiest fishes that you can have, and depending on how you make it, it can be super delicious! They're great for your thyroid, and have tons of Omega-3 fatty acids.
Yogurt: It turns out that if you eat regular yogurt, you're more likely to lose weight. Since the low fat ones have been known to cause diabetes and illnesses of the sort, you're better off having a little full-fat yogurt as a snack or for your dessert.
Grapefruit: The superfruit is delicious, citrusy, and very good for the body! Though please be careful with any medications you might be taking when eating grapefruit, as it can mess with the effects of certain medications.
Chia Seeds: Not only are they super yummy, but they actually absorb water in your stomach so you feel much more full a lot quicker! Add to some yogurt or into your smoothie for a cool texture and lots of fiber!
Chicken breasts: They're packed full of protein, and you can try so many different types of marinades to try and spice it up!
Broccoli: One of the most popular green veggies out there these days, there are so many ways to spice up this delicious vegetable that's packed full of protein and vitamins.
Cauliflower: The cousin of broccoli, these days everyone seems to be using this awesome veggie to make a copycat recipe of different types of carb-filled foods.
Avocado: They're creamy, they're green, and they're one of the biggest food trends right now. Add one to a salad or on the side of one of your meals next time!
Beans: Not only are they delicious, but they're full of lots of nutrients. Plus a decent serving of beans or the addition of them to any other dish will fill you up a lot quicker than certain other foods will.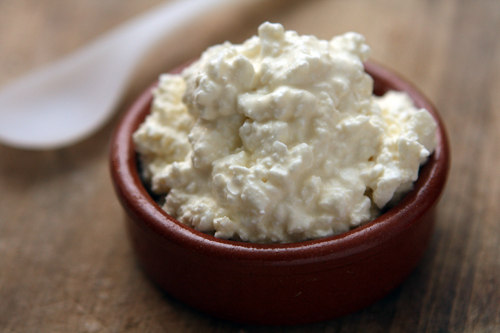 Cottage Cheese: This is the perfect way to keep some dairy in your everyday diet without adding tons and tons of fat as well. It might not look too appealing, but it's so delicious and very good for you!